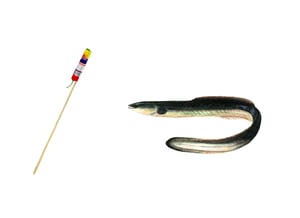 £

150.00
Eels used to be plentiful in rivers and canals throughout the UK. Now their numbers are dwindling. A small but not insignificant reason for their demise was a small group of otherwise quite bright children catching them and putting rockets inside to fire them at the silo wall of the local sugar beet mill.
Again a true story.
This is one of a signed limited edition of 15.
Epson Giclee Print on 310 gsm
Hahnemuhle German Etching paper.
594x841
Framed or Unframed.